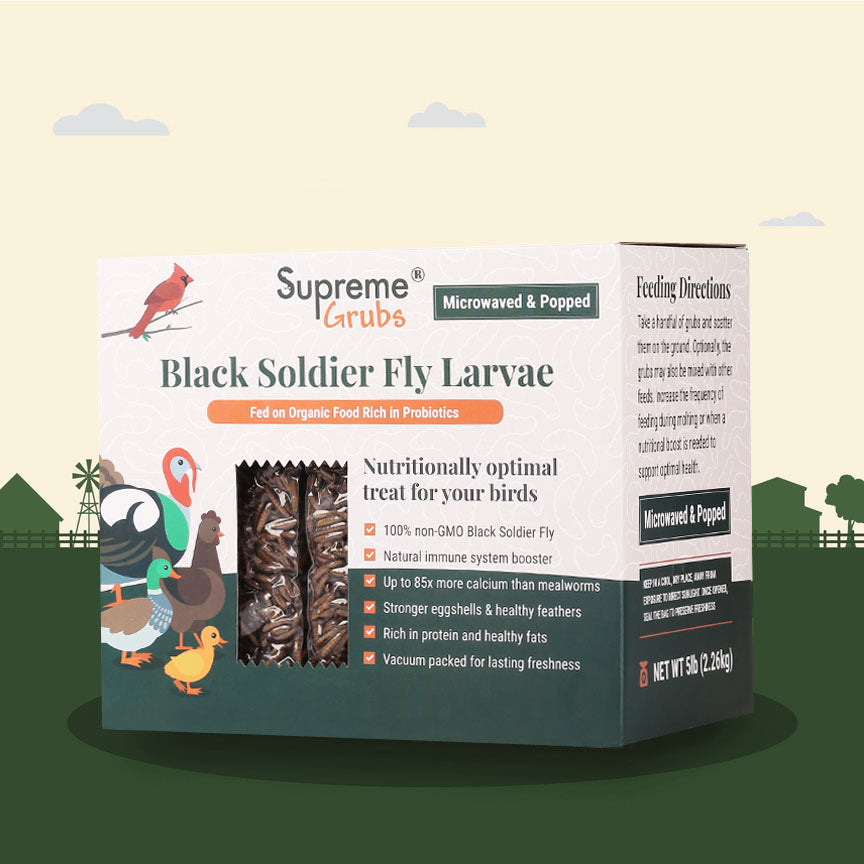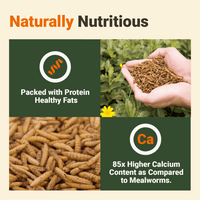 Supreme Grubs - Black Soldier Fly Larvae
$12.95
Get FREE 1.1lb box of grubs with first purchase! Buy a 5.5lb box of grubs and get 1.1lb box of grubs for FREE. Simply add both 5.5lb and 1.1lb box to the cart and 1.1lb box will be free.
***FREE shipping within the contiguous US!***
A natural, premium treat for your chickens, ducks and all birds. Our black soldier flies were fed on organic food, rich in probiotics. We add no additives or preservatives and our product contains 100% dried black soldier fly larvae.
Benefits:
- A high protein treat with good amount of healthy fats for support during molting and to promote healthy feathers
- Dense in micronutrients, calcium, phosphorus for stronger eggshells
- Rich in postbiotics, to support your bird's immune system
- Easy-to-store ziplock bag to preserve product freshness
How to use
Take a handful of grubs and scatter them on the ground. Optionally, our grubs may also be mixed with other feed. Increase the frequency of feeding during molting or when a nutritional boost is needed to support optimal health.
Ingredients
100% dried black soldier fly (Hermetia Illucens)
"great way to round up your flock and an excellent source of protein and calcium"

Paula G. Jun-16-2021
"They are good size and they are whole worms not a bunch of crumbs"

Kim C. Aug-12-2021
"Oh my god they are really going after them!"

H.P. Jul-19-2021